Recent Knife-Forging Class 202

From Sept.12th to the 14th, we conducted one of the best traditional Japanese Bladesmithing classes to date. It was a non-stop, educational, action-packed bladesmithing course from Thursday evening until 11pm Sunday night! The students were great and they readily absorbed the lessons that I taught them. Everything went smoothly and, by the end of the course, we had six absolutely gorgeous hand-forged knives. Read what Bob Worthington, one of the attendees, had to say:
"Very recently, I attended Murray's Bladesmithing 202 Course and, while I may know a thing or two about Japanese knives, I knew absolutely nothing about how to actually make one. Needless to say, I was fairly apprehensive about my ability to feel at ease in the shop and working with all the power equipment, let alone actually making a knife with them.
Murray did his best to assure me everything would be fine
, but the unknown still held its grasp.
"Upon arriving the first day, Murray had us jump right in and I started working with the power hammer. His easy-to-understand explanations and guidance made me both feel at ease and confidant as I became familiar with its use. Murray did this by giving us practice time on different materials, both soft and hard.
This to me was invaluable
as I got a good feel for using the hammer and its affect on the steel being hammered. In no time I started forging my knife as Murray stood right there supervising the whole process. Murray even suggested we make a small "letter opener" from a piece of steel that was cut off from the forged knife. While Murray performed the critical heat treatment on my blade, he guided me in heat treating the small blade.
So now I have a knife that I can say was forged and heat treated 100% by me. Very cool.
"He had a great mix of allowing me plenty of hands-on work, yet stepping in when things got critical. This is what the course was like the entire three days.
At each step of the knife-making process, Murray was right there to instruct, guide and assist me
. No corners were cut, either. I learned to make my knife the way Murray makes his -- traditional Japanese methods with strong attention to quality, detail and craftsmanship. Needless to say my knife is a beautiful piece of Japanese cutlery that I made with my own hands. When I showed my wife and friends the cut off piece of metal I started with, the small knife I made on the side and then the Gyuto I made, they were in shock.
They just couldn't believe that I, Bob, made it by hand.
Sometimes when I look at it, I have a hard time believing it, too, but I've got the pictures and videos to keep that from ever happening.
"But, honestly, I got much more out of the class than a knife
-- the knife-making skills, both physical and analytical, the knowledge, the history, the friendships, the breaking up of pine charcoal, the target shooting, the mosquito bites, the language lesson, the raisin bread, and so much more.
Murray did an excellent job of instruction
, and I give total credit to his ability to make me feel comfortable every step of the way. After the end of each class day, Murray also had options for us to do various things, so
the fun never ended
at 6:00. Murray and his family were very gracious hosts, too, and made me feel at home while in theirs.
"Murray, I can't thank you enough for an incredible experience that will surely be long remembered.
When the class was over, I had this overwhelming desire of wanting more.
I wanted to drive back to the shop Monday morning to start another knife. I enjoyed everything involved with knife making and truly found myself wanting to do it again. When I told my wife this, she jokingly asked if I was still planning to get on the plane to come home. I am grateful for the time we spent and
I can't recommend enough that everyone take this class, or any of his classes
for that matter. Thanks again.
"Sincerely,
Bob Worthington, CPA"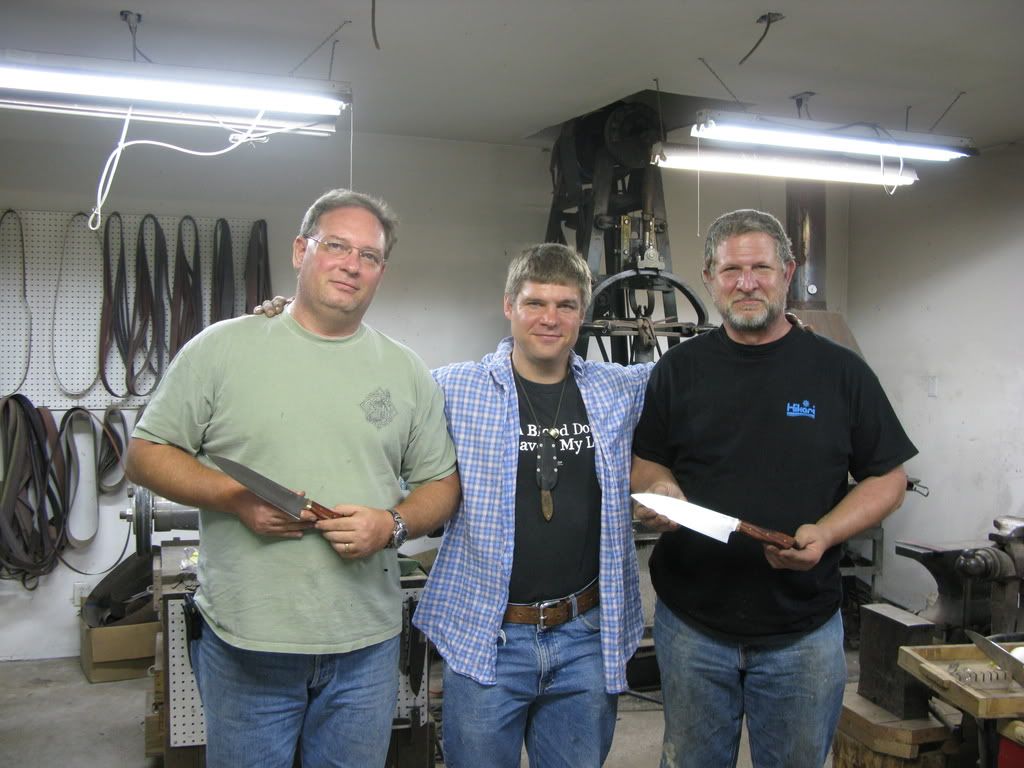 Murray with Bob Worthington and John Marcus
"I found out about Carter Cutlery while searching for a DVD on knife sharpening. I liked Murray's straight-forward approach.

"I then saw that Murray offered bladesmithing classes teaching the Japanese style of bladesmithing. I have been a knife nut for many years both as a user, collector and small-time maker (stock removal). Within a day or two, I decided to attend Course 202 -- he had one spot left and I grabbed it.

"I arrived the evening before the class started, greeted by an energetic and enthused Murray Carter. I think he was as excited about teaching the class as I was attending it. I got a quick shop tour and an introduction to what I could expect over the next three days. The goal -- to build my own Pro Series kitchen knife.

"Class began Friday morning with an introduction to his Japanese power hammer and coke-fired forge. Before long, we practiced the basics and I was soon hammering on a triple laminate that would become my first forged knife. The first day ended soon, and with Murray's guidance and help, my knife was hammered out and trimmed to shape.

"The next two days also passed quickly working on our own knives after being taught and shown how to complete the next step. The class day was broken up by a few tea and coffee breaks, lunch and a brief lesson in Japanese. After class hours, we were offered an array of activities highlighted by a 100-plus-yard offhand handgun competition.

"The instruction was clear and to the point, interrupted by many questions. During every hour which passed, our knives came closer to being finished, our minds were absorbing a ton of new information, and our bodies were learning new skills.

"On the last night, we ate a great Chinese meal with Murray's family which was really a treat!!

"What's next? I am definitely coming back for an advanced class and intend to acquire the tools necessary to forge blades on my own.

"If you are undecided about taking a class from Murray, I suggest you get off the fence and go see for yourself what a 17th-generation Yoshimoto Bladesmith can teach you.

"Thanks to Murray, his staff and family for a great experience.

"Sincerely,
John Marcus PhD, PTC Instruments"

You can also take a look here at the Knife Forums website for a great write-up by Bob, including a lot of photos. There are larger photos here at the Foodie Forums site, too. Thanks, Bob and John, for sharing your experiences with us all.
The participants and I decided that we should do something special in light of the dates of the course, which were right after 9/11. After a prayer and a silent moment for those who had fallen fighting for freedom, we decided to stamp our forged blades in a special way to commemorate the occasion. We all stamped a smiley face in the steel, a reminder to us that the best reaction to terrorism is to keep smiling and not let ourselves become depressed or paranoid in the face of terrorists. You can see this knife here for purchase at our Products website.
Another exciting part of the class was the elective activity we did on Friday night after our first full day of class. The students requested a forge welding demonstration and I was happy to oblige. Earlier that day I had the students forge a round bar of rusty steel flat in order that they might become familiar with my power hammer. On a whim, I used that now-flat bar as the outer laminates on a white steel core, forge welded it and then forged the welded billet by hand into a knife. The next day we used that knife for a heat treating and grinding lesson, marked it also with the smiley face and the resulting knife is here at our Products website.
Take a look at the forge welding video clip here, and the hand forging clip here.
We are proud to announce Murray's new entry into the largest and most comprehensive encyclopedia in the world, Wikipedia. One of our loyal patrons took the time to assemble the entry from parts of our website and other literature. Check it out here and please give us some feedback. Let us know if you would like to see something changed or added.
About ten years ago at my shop in Tabaruzaka, Kumamoto, Japan, a patron visited my bladesmithing shop. Apparently he had just come from a Samurai sword bladesmith who had given him a piece of "Tamahagane." He gave the steel to me and suggested I forge it into some blades sometime. I accepted the steel, put it aside for future use, and then more or less forgot all about it.

A few weeks ago, however, I found the steel in a box that we had placed it in for the move from Japan to Oregon,and so I decided to forge some knives using the Tamahagane steel. Not knowing the carbon content of the steel, I forge-welded some white steel in the center for superior cutting ability and lightly etched the surface to reveal the subtle laminations of the Tamahagane.
One of the neat things about the blades that resulted is not knowing whether the Tamahagane steel is 50 years old or 500 years old! This knife is also available for purchase here on our Products website.
There was concern that our discounted "seconds" might be purchased directly from our site and then sold for full retail prices on the second-hand market. Please rest assured that this cannot happen as any "seconds" blades are clearly stamped with either a "2" by my Carter stamp or the Carter stamp is stamped out. It is not possible that anyone could be fooled by one of these blades if they look at the markings.
---
Until our next email news,
Stay Sharp and may God richly bless you!
Carter Cutlery

P.O.Box 307

Vernonia, OR 97064
Carter Cutlery ~ Home
Carter Cutlery Products
phone 503-429-0447
murray@cartercutlery.com